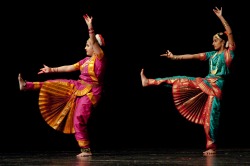 Abhinaya School of Dance(ASD) is Michigan's premier Bharatanatyam institution. Abhinaya is run by Mrs. Dhanya K Rao, more known as Vani. Established in Michigan in March of 2004,Abhinaya School is devoted to impart training exclusively in Bharatanatyam. The course is designed to suit all levels from Beginner to Intermediate and Advanced, in a child- friendly, stress- free atmosphere. They are given the opportunity to showcase their accomplishments through performances to variety of audience and have received acclaims for the same.

ASD was recently recognized as a Certified center in Michigan for proving Certificate course, Diploma, Associate Degree and BA Degree in Bharatanatyam. The school is affiliated with Alagappa Performing Arts Academy, a sister concern of Alagappa University, Chennai , India.

In Fall of 2010, Ms Priya Mathew became the first student to graduate from Asd. She passed her Certificate course in Bharathanatyam through APAA. Congratulaions!

The students of Abhinaya have performed at various occasions like the Novi International festival, Farmington Hills Heritage Festival, Troy Daze Fall Fest and the prestigious Nritya Aradhana at the Bharatiya Temple of Troy. The students actively participate in community functions organized by DTA, TTA,DMA ,and fund raisers like Child rights and you and Spread India. In the fall of 2011, ASD was invited to perform at the 83rd International Festival organzed by the International institue of Metropolitan Detroit.

ASD started with 4 students and now has more than 130 students to its name.
---