Dhanya Kumar Rao ( Vani )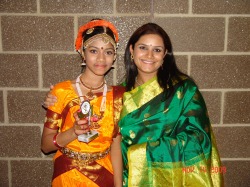 Dhanya, more knows as Vani, earned her Diploma in Bharatanatyam under the tutelage and guidence of Sangeet Natak Academy award recipient Guru.Smt. Indira P P Bora, in Guwahati, Assam. She performed her Arangetram at the age of 13, where she was hailed by the media as Child Prodigy. After completing high school, Dhanya moved to Baroda, Gujarat, where she pursued Bachelors and Masters Degree in Performing Arts, (BPA, MPA) specializing in Bharatanatyam at the prestigious M. S University. She is the recipient of the Anjali Mehr Gold Medal for the year 2000 for topping her batch in BPA. Vani's Gurus in M S University were Dr.( Prof) Praul Shah ,Shri Pradeep K Barua, Dr Jayanti Chadorkar, Smt Paraul Patel, Smt Juthika Mahen and Shri Natarajan Pillai.

Vani has performed in over 50 major shows in India, USA and Scandinavia. She was a delegate at the 13th International Conference of ASSITEJ( Association of Theaters for Youth and Children) in Tromso, Norway where she held a lecture demonstration and workshop on Bharatanatyam. She has also performed in Copenhagen, Denmark, and has received acclaim for the same.

Vani is also the recipient of the Government of India, Ministry of Human Resource Development Scholarship in the field of Art and Culture. She is a vivid choreographer and has composed and choreographed various Bharatanatyam and folk compositions for children. She has conducted workshops for school children to talk about the importance of dance and music in education.

Dhanya has appeared several timed on television. She is an auditioned artist at Doordarshan Kendra, Guwahati and Bangalore, India, and has performed for Doordarshan Ahmedabad and Program Production Center, Northeast. She has also been interviewed by All India Radio, Guwhati.

She had been teaching Bharatanatyam in India before moving to the USA in 2003. Dhanya established Abhinaya School of Dance in March of 2004 in Michigan.


---